Pond Academy is reader-supported. Buying through links on our site may earn us an affiliate commission. As an Amazon Associate I earn from qualifying purchases.
When you think of barley, beer might be the first thing that comes to mind (or is that just me?).
But, the straw of barley grass may also be used as a natural method to help control algae in ponds.
Let's look at how barley straw may help control algae growth and how to use it correctly in your pond.
Plus, since it can be hard to find, we'll show you where to get your hands on this natural algae controller!
What Is Barley Straw?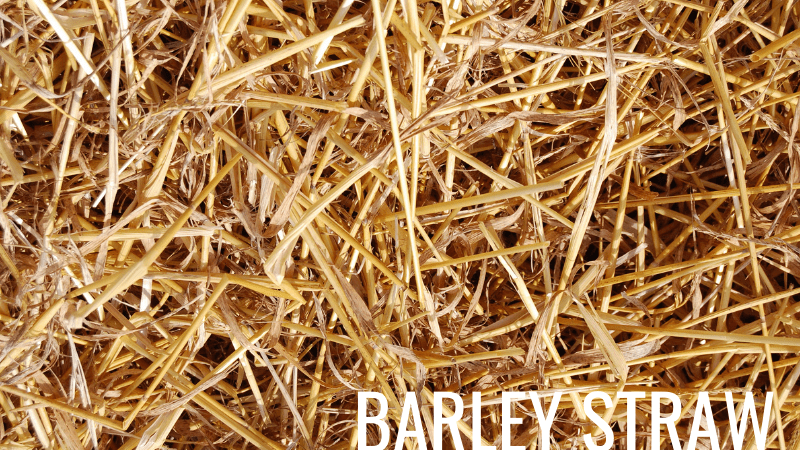 Barley is a major grain that is part of the grass family. This grain has been cultivated for thousands of years and is used in various foods, and as I mentioned before, beer!
Barley straw is the byproduct of barley grain production. In other words, it's the plant material that's leftover after the grain has been harvested. The straw has very little nutritional value, so it's mainly used as feed for livestock, mulch in gardens, and controlling algae in ponds.
Types of Barley Straws
Barley straw products come in more than just straw. In fact, there are three different variations of barley straw on the market today. And while each type of barley straw works similarly, each has its own pros and cons.
Barley Straw Bales
Arguably the most popular form of barley straw is natural barley straw which you can buy in bales.
Natural barley straw is going to be the cheapest alternative of the three but also works the slowest. This is because the straw needs to break down over time to create hydrogen peroxide. In conrast, barley straw extract, for example, is highly concentrated and is formulated for a quicker turnaround.
Keep in mind, barley straw isn't a quick fix to your pond's algae problems. In fact, its purpose is for green algae control and prevention. So, it's OK if the process is slow (sometimes up to 3 months) since once the barley has started working, you can just continually replace it for effective long-term control at a slightly cheaper cost.
Usually the cheapest alternative
Effective planktonic algae control
Works the slowest of the three types
It is messier than the extract and pellets
Summit Clear-Water Barley Straw Bales
Price:
Clicking this link to make a purchase may earn us a commission at no additional cost to you.
Barley Straw Extract
Barley straw extract is just a concentrated liquid form of barley straw.
Its main benefits are that it works faster than regular straw, is easier to implement, and is less messy since you won't have barley straw floating on the surface of your pond.
But, because it's highly concentrated, a little bit can go a long way. So, be careful you don't overdose it and potentially affect your pond life in a negative way.
Barley extract is also slightly more expensive than the baled type, so if the cost is a concern, you may want to take that into account.
Great barley straw solution for large ponds
Effective planktonic algae control
Works faster than barley hay bales
No mess
Slightly more costly than bales
Highly concentrated, so be extra careful with your dosage
CrystalClear Barley Extract Liquid
Price:
Clicking this link to make a purchase may earn us a commission at no additional cost to you.
Barley Straw Pellets
Like extract, the pellet version is a highly concentrated form of barley straw that provides a long-term method of clarifying your pond's water.
Again, it's less messy than using regular bales and is faster acting. It also is commonly infused with other beneficial enzymes to help improve your pond's water quality.
And like extract, it's a little more expensive than plain barley straw, but it may be worth it if you want an easier implementation with less mess.
Effective planktonic algae control
Works faster than bales
Less messy than bales
Typically more expensive than bales and extract
Highly concentrated, so be extra careful not to overdose
Ecological Laboratories Microbe-Lift Barley Straw Pellets PLUS
Price:
Clicking this link to make a purchase may earn us a commission at no additional cost to you.
How Does Barley Straw Work in Ponds?
It's important to understand that barley straw does not kill algae that already exists in your pond. Instead, it helps to prevent the growth of new algae.

Did you know...
Exactly how barley straw works to prevent algae is still unclear. The thought is that when the straw decomposes, it releases hydrogen peroxide. The same algae controlling effects have not been shown with other types of straw like rye or wheat.
No matter how the process works, just remember that barley straw is used as a preventative measure and will not kill existing algae.
There's also a bit of a disagreeing on whether it helps prevent planktonic algae and filamentous algae, or just the former version. Studies in England suggest it prevents both types of algae species, while limited studies in the US have had mixed results. Either way, water clarity in your pond should improve from the reduction of planktonic algae.
How to Use Barley Straw for Algae Control
Alright, once you've got your type of barley straw picked out, and you understand that it's only used for algae control (and not removing algae), then it's time to put it to good use!
How to Apply the Straw in Ponds
Ideally, barley straw should be applied in early spring (sometimes as early as late fall) before algae start to grow in your backyard pond. Keep in mind, that colder pond water may slow down the decomposition and production of the algae controlling chemicals. Sometimes up to take 6 – 8 weeks. In warmer pond water, however, it can start working in just a few short weeks.
For straw bales, you'll want to use about one bale per 1000 gallons. This is a general statement, and you'll want to be sure to check the manufacturer guidelines for specific directions. If your pond is prone to algae blooms, you may want to use about 1.5 times that amount. Just be careful not to overdose the pond as it may cause fish kills and deoxygenate the pond, leading to other problems.
If you're unsure of your pond's volume, you can easily figure it out with our pond volume calculator.
To apply the straw, simply place the straw bales in several locations and in shallow parts of your pond, as close to the surface of the water as possible. Ideally, they will be floating or sitting on a shallow shelf. This is important because the straw needs sunlight and oxygen to decompose properly. If your bale sinks to the bottom of your pond, pull it out, let it dry, then place it back in your pond on a shallow shelf.
Summit Clear-Water Barley Straw Bales
Price:
Clicking this link to make a purchase may earn us a commission at no additional cost to you.
Barley straw is effective for about 6 months, after which you'll simply replace the decaying straw with fresh straw.
For both pellet and extract varieties, you'll want to carefully read the instructions on the specific variety you have. Manufacturers often infuse them with other enzymes, and with their highly concentrated nature, you'll want to be sure you don't overdose your pond. This could lead to fish kills and cause other problems with your pond's ecosystem.
How Long Does Barley Straw Take to Work?
This really depends on the type of straw you are using and when it's applied.
You'll start to see results with regular barley straw bales in as little as two weeks in the right conditions. Remember, the decomposition process works faster in warmer water, with a good amount of sun and oxygen.
So, if you apply it in Spring or Summer, it should typically work faster as opposed to applying it in Fall or Winter, which in those months can take up to 6-8 weeks to start working.
Far both extract and pellets you will notice results a little quicker.
Just remember, barley straw doesn't kill, but rather prevents the growth of algae, so you'll more than likely notice the bulk of the results the following year, as there should be fewer algae in your pond at that point thanks to the straw.
If algae blooms are currently a problem in your pond, you'll have to use more direct methods to get rid of them. Check out our guide on how to get rid of pond algae like a pro!
How Often Should I Apply the Straw?
Again, you'll want to refer to the instructions on your package, but for regular barley straw, you would want to typically replace it once every 4 to 6 months for best algae control results. This will ensure that you have a constant supply of straw decomposing throughout the year, thus your pond will continually be getting the algae controlling benefits for as long as you use the straw.
Is Barley Straw Safe for Fish Ponds?
Barley straw is safe for pond fish as long as it is dosed properly. While it does decompose and produce hydrogen peroxide, which can be toxic to pond life, the concentrations are extremely low, and your fish will be fine.
Even if you properly dose the straw for your pond, you may run into additional issues if you have poor filtration and/or aeration. Barley straw is going to have a similar effect as any other organic waste that may enter your pond. It can break down and create ammonia, sink to the bottom and contribute to pond muck, and so on. So, if your koi pond, or any type of fish pond, is already suffering from a high level of waste due to poor filtration or aeration, then it may compound those problems which in turn may harm your fish.
With that said, if you have a thriving pond environment with a proper pond filter and aeration system, and water quality tests come back clean, then adding barley straw to your pond is completely safe for fish.
API Pond Master Test Kits
Price:
Clicking this link to make a purchase may earn us a commission at no additional cost to you.
Where to Buy Barley Straw for Ponds
You may have noticed that buying barley straw locally can be sometimes difficult depending on where you live.
If you struggle to find it at local stores, you can always check with local barley farmers, farm and tractor supply companies, or local hardware stores like Home Depot.
For convenience, however, your best bet is to simply order it online. Below is the regular straw bale we recommend.
Summit Clear-Water Barley Straw Bales
Price:
Clicking this link to make a purchase may earn us a commission at no additional cost to you.