Pond Academy is reader-supported. Buying through links on our site may earn us an affiliate commission. As an Amazon Associate I earn from qualifying purchases.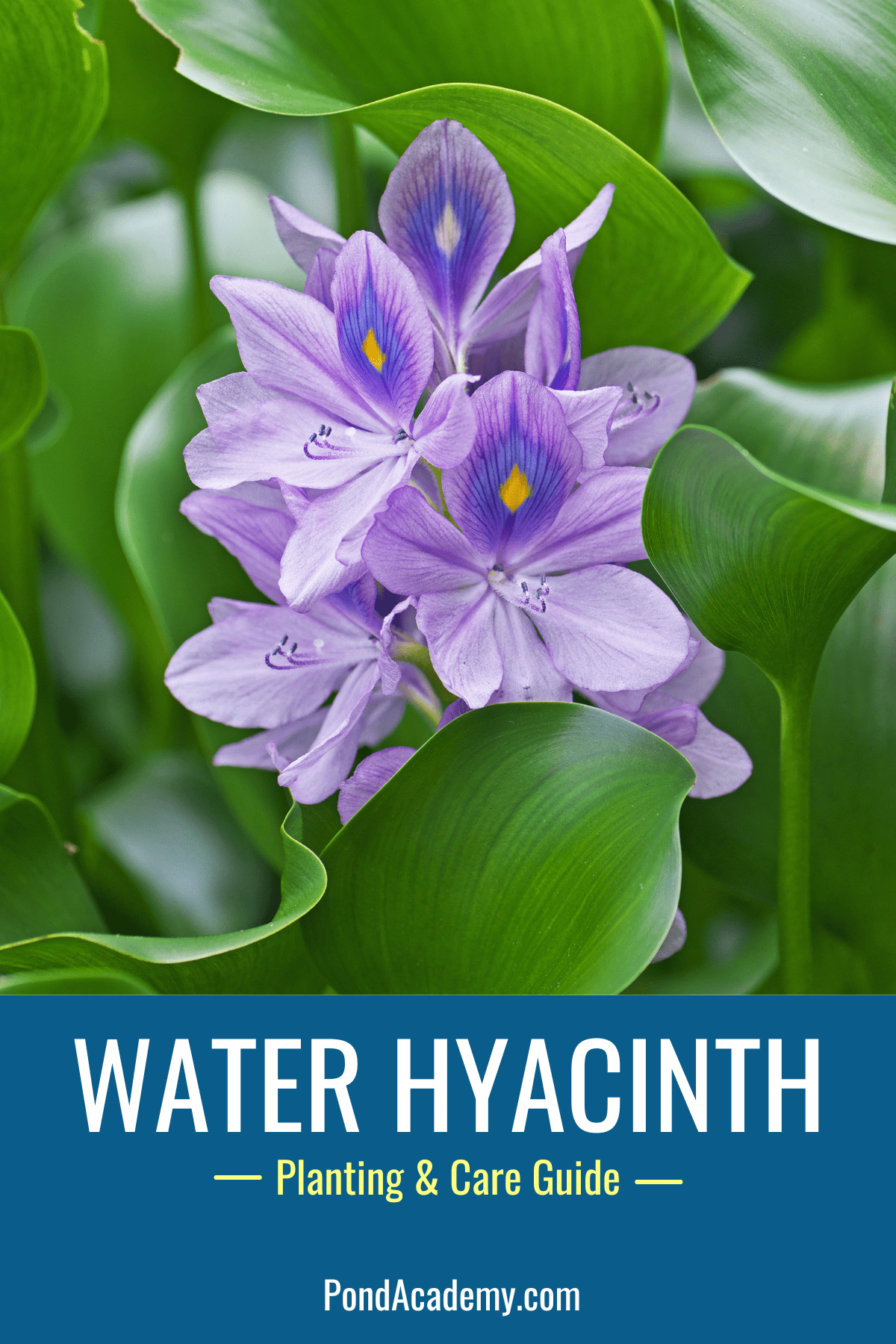 Water Hyacinth is one of the most popular floating pond plants due to its beautiful Summer blooms and ability to consume excess nutrients, which helps control algae.
They also help naturally add oxygen to your pond water and provide cover for your fish from predators.
Also referred to as the Common Water Hyacinth, this plant features thick green leaves that can reach up to 8" long and large lavender or pink flower blooms. In the right conditions, this floating plant can grow to 36" above the water's surface!
This perennial aquatic plant is native to South America and grows naturally in tropical and sub-tropical regions thought the world. Its optimal growing temperature range is 77–86 °F (25–30 °C).
Keep in mind this plant is considered invasive in many areas outside of its native range and is even considered illegal in certain states, including Alabama, Arkansas, Arizona, California, Florida, Hawaii, Louisiana, Mississippi, Nebraska, South Carolina, Texas, and Wisconsin. This is due to the extremely rapid growth of this plant and its ability to block waterways, choke out native species of plants, etc.
Important: Check with local regulations on the legality of this plant before adding it to your pond.
Water Hyacinths Floating Water Garden Plants
Price:
Clicking this link to make a purchase may earn us a commission at no additional cost to you.
Water Hyacinth (Eichhornia crassipes) Quick Look
Scientific Name
Eichhornia crassipes
Common Names
Common water-hyacinth, floating water hyacinth
Plant Type
Floating Pond Plant
Light Requirements
Full to partial sun
Hardiness Zones
USDA Zone 9-11
Bloom
July through September
Grow Up To
36 inches
Flower Color
Lavender, pink
How to Plant Water Hyacinth in a Pond
To plant water hyacinths in a pond, scatter them across the surface of the water in areas that get full sun. You can help contain their growth and prevent overpopulation by scattering the plants in a floating ring.
Water Hyacinth Care Guide
Water Hyacinths are some of the fastest-growing pond plants, so it's important to control their growth before they become detrimental to your pond. Luckily, thinning your plant population is easy - remove a batch of floating plants and discard them away from your pond. If the roots are extremely thick, use scissors to cut off a batch.
If the leaves start to turn yellow or the flowers cease blooming, they may lack nutrients. You can remedy this by pulling the plants from the water and placing them in a tub with a water/fertilizer mix per the fertilizer products instructions. Let the plants soak up the nutrients for a few days. Once they turn green and/or start to flower, pull them from the tub, rinse them off, and place them back in your pond.
Water Hyacinth struggles with freezing temperatures or cold water. In Zones 8 and lower, discard your Water Hyacinth at the end of the first frost.
Water Hyacinths Floating Water Garden Plants
Price:
Clicking this link to make a purchase may earn us a commission at no additional cost to you.
Water Hyacinth Care Card
Download our free printable care card for the Water Hyacinth plant! Click the care card below and save the PDF file to your computer. You can easily print off the 3x5 care card or access it right from your phone. Get all the important information you need to keep your Water Hyacinth plants healthy and happy!
Plus, we provide a blank card for you to print and fill out yourself. Print it as many times as you like to create cards for all your plants!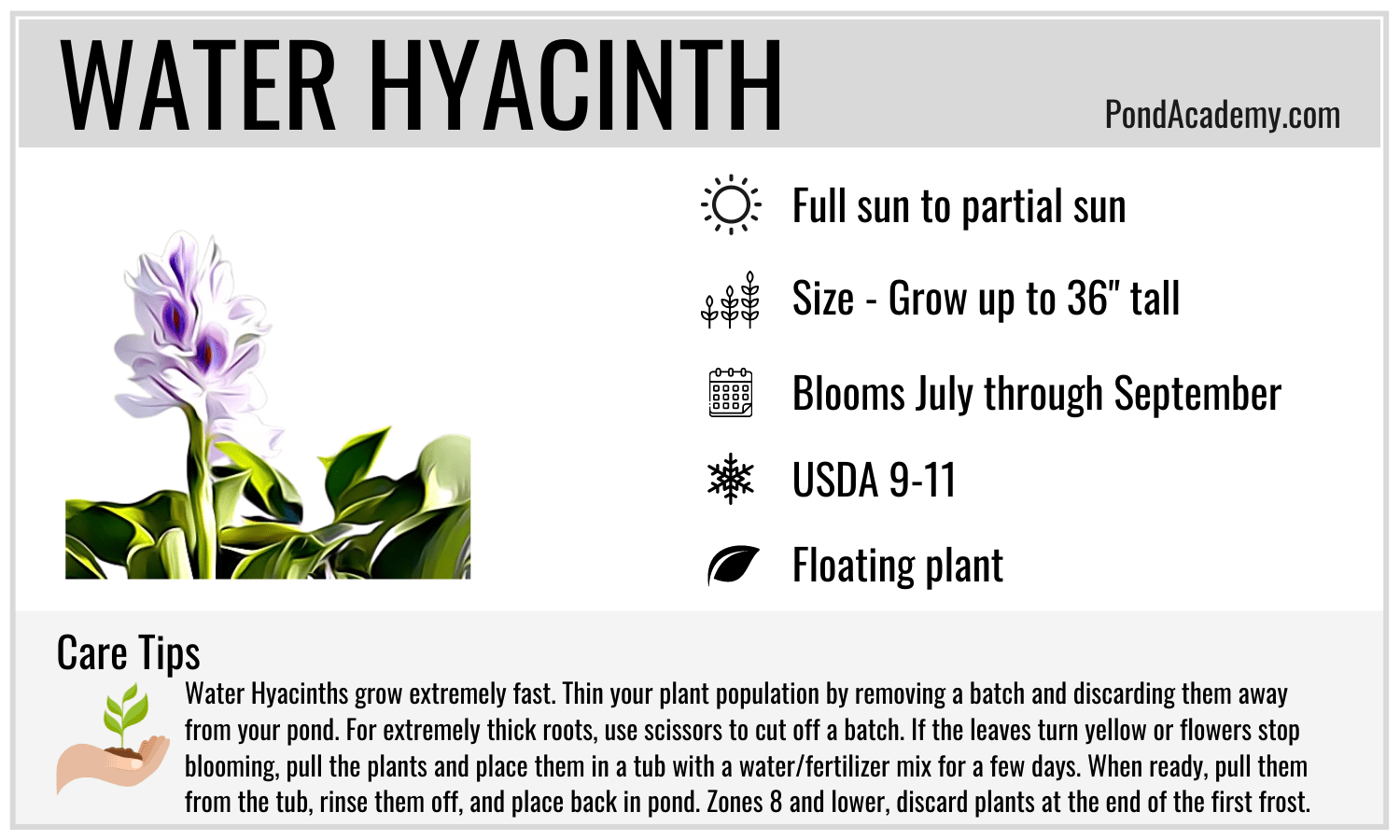 Pond Plant Care Card Set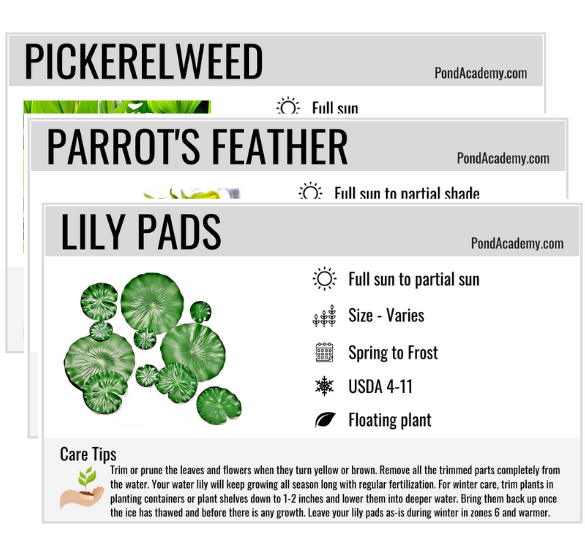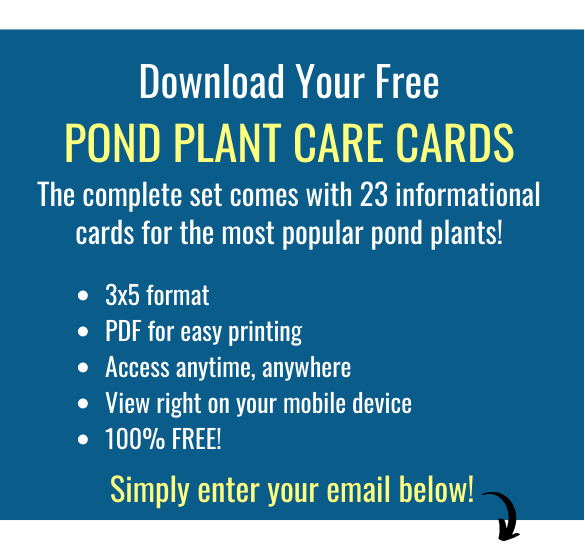 Water Hyacinth Plant FAQs
Should I put water hyacinth in my pond?
Water Hyacinth has many benefits, including adding vital oxygen to your pond and consuming nutrients that would otherwise fuel algae growth. However, it can grow very quickly and may not even be legal in the state you live. If you plan to keep it trimmed down and it's legal where you live, Water Hyacinth is a very beneficial and beautiful plant to put in your pond,
Is water hyacinth good for fish?
Water Hyacinth is an excellent plant for fish ponds. It blankets the surface of your pond, providing shade and protection from predators. Plus, the roots of the plant provide a spawning area as well as a snack for pond fish.
Where is the best place to plant a hyacinth?
The best place to plant Common Water Hyacinth is in an area of your pond that gets full sun. The optimal growth temperature is 77–86° F (25–30° C).
How fast does water hyacinth multiply?
Water hyacinth plants multiply quickly, typically doubling in two weeks. In other words, if you plant 10 Water Hyacinth plants in your pond, you could have 40 in a month! This is why it's important to keep them in check if you plan to introduce them to your pond.