Pond Academy is reader-supported. Buying through links on our site may earn us an affiliate commission. As an Amazon Associate I earn from qualifying purchases.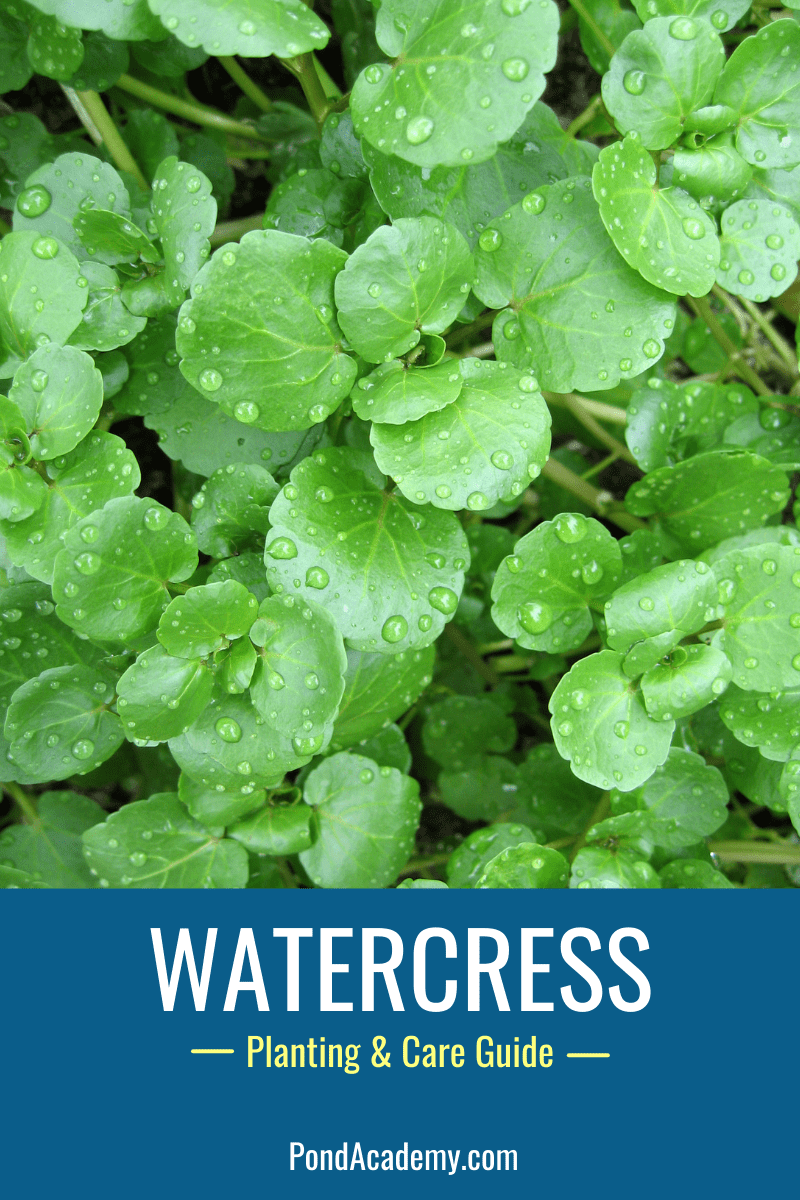 Watercress, botanically known as Nasturtium officinale, belongs to the cabbage family of the Brassicaceae family.
It is an aquatic flowering plant commonly found growing in moist soil or shallow water. Watercress may grow 6-15 inches in height. This aquatic pond plant comes in handy in giving a lighter look to your pond edges, streambeds, or creek, thanks to its small, green, and white flowers.
Watercress is known for its rapid growth, especially in full to partial sun with shallow water at its roots. You will get hardy Watercress when you plant it in loam soil around zones 6 to 11.
One of the many benefits of Watercress is its health benefits. And we're not talking about just pond health. The leaves and sprouts of this plant are edible and are considered one of the healthiest vegetables in the world.
True Watercress - Twin Pack of 500 Seeds Each - Non-GMO
Price:
Clicking this link to make a purchase may earn us a commission at no additional cost to you.
Watercress Quick Look
Common Names
Watercress, Nasturtium officinale
Plant Type
Aquatic or semi-aquatic plant
Light Requirements
Full Sun to Partial Shade
Hardiness Zones
USDA 6-11
Bloom
Spring to late fall
Grow Up To
6 to 24 inches high
Flower Color
White
How To Plant Watercress In A Pond
You can either plant the seeds or the already established Watercress plants. For the seeds, all you have to do is place them in damp soil up to 2 inches deep (roughly 5cm).
If you are planting established plants, place them in sufficient saturated soil so that the roots and about an inch of the stem are covered. Alternatively, you can place them in water, with up to half of the stem submerged. The submerged roots (in water) should be covered with substrate and rocks to ensure that pond fish don't dig them up and feed on them.
Watercress Care Guide
Considering the rapid growth and spread of this aquatic plant, it is best to trim them back to avoid overgrowth. Ensure the clippings and fallen flowers and leaves are removed from your pond or water garden to keep it clean and healthy.
You will notice a loss of foliage in the Nasturtiums as Autumn approaches. The remaining parts of the plant will overwinter and resprout when Spring approaches. For plants in milder regions, they will most likely continue their flowering and fruiting cycle, especially when the temperatures stay above approximately 50° F (10° C).
True Watercress - Twin Pack of 500 Seeds Each - Non-GMO
Price:
Clicking this link to make a purchase may earn us a commission at no additional cost to you.
Watercress Care Card
Download our free printable care card for the Watercress plant! Click the care card below and save the PDF file to your computer. You can easily print off the 3x5 care card or access it right from your phone. Get all the important information you need to keep your Watercress plants healthy and happy!
Plus, we provide a blank card for you to print and fill out yourself. Print it as many times as you like to create cards for all your plants!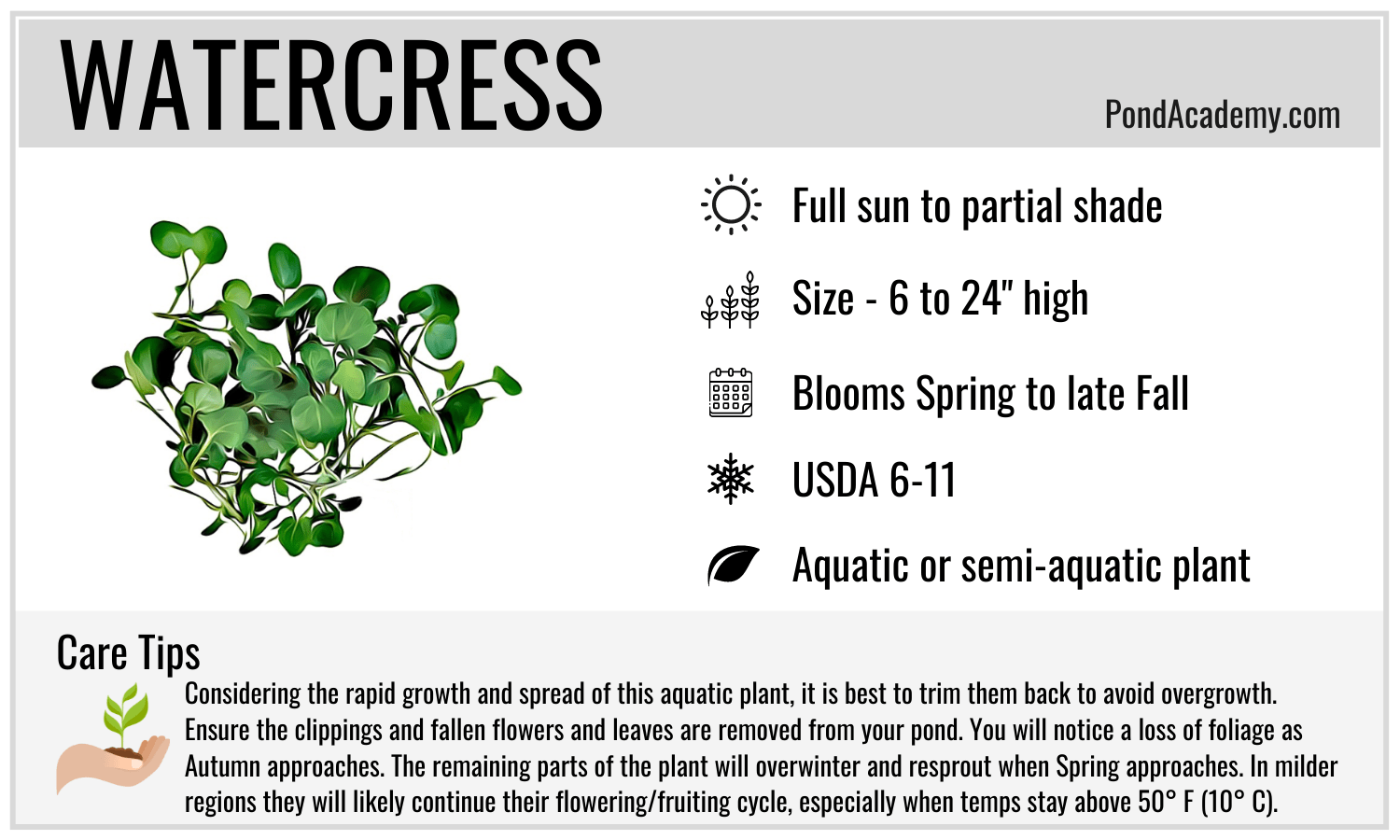 Pond Plant Care Card Set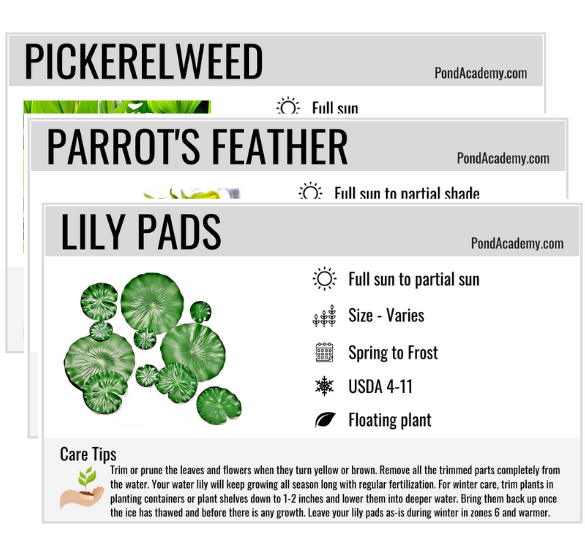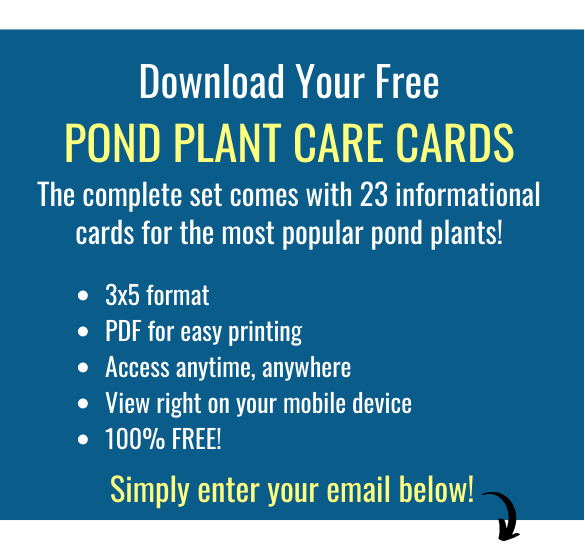 FAQs
Where does Watercress grow best?
Although Watercress can grow well in sunny conditions, they prefer a light shade condition. All you have to do, in either case, is ensure the compost or soil remains wet all year round. You can also plant them in a container sitting in a deep saucer filled with water.
Is Watercress an oxygenating plant?
Yes, Watercress is classified as one of the best oxygenating pond plants around. This is due to its large amount of underwater foliage, which releases oxygen and soaks up impurities.
Does Watercress need full sun?
Watercress grows best in full sun to partial shade conditions.