Pond Academy is reader-supported. Buying through links on our site may earn us an affiliate commission. As an Amazon Associate I earn from qualifying purchases.
Pond fish are, unfortunately, part of the food chain and predators such as birds, raccoons, frogs, and other animals will sometimes eat them.
Furthermore, these predators can be very destructive to a pond ecosystem if they are left unchecked.
To avoid this, let's learn how to protect pond fish from predators using 10 of the most effective methods of pond predator control.
These proven methods will help keep your fish healthy and safe!
Knowing Your Local Predators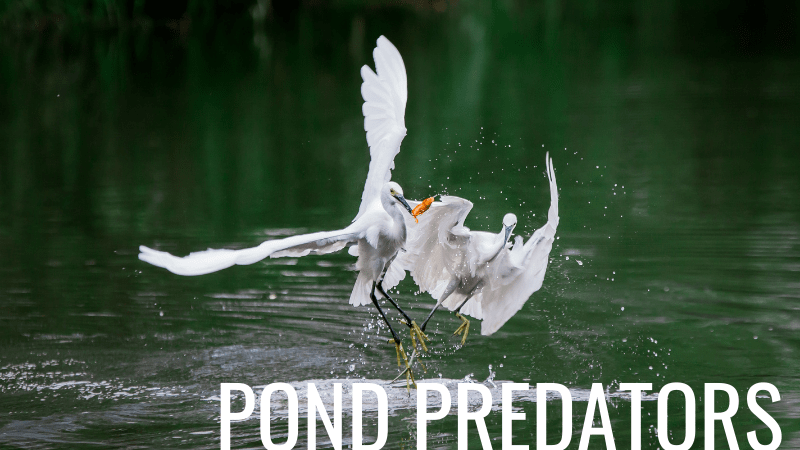 First, it's a good idea to know what you're up against when it comes to predators in your area. You can learn about your local pests and predators by contacting animal control, and/or the county or state fish and game departments.
With their help, you should be able to find out what types of wildlife to watch out for in your area as well as how to best protect your pond. Pond associations are another great resource because they have members who live nearby with potentially more knowledge on this topic than anyone else.
Every predator is different, and some require very specific methods of control. For specific pond predator control, check out these detailed guides:
For general methods that will help protect your pond from the majority of threats, continue on.
How to Protect Your Pond From Predators
Fish Caves
Fish caves are an excellent way for you to give your fish some refuge. For these protective structures to work effectively though, they need depth - at least 2' deep with 3' recommended if possible!
Aquascape Koi Predator Control Faux Log Fish Cave
Price:
Clicking this link to make a purchase may earn us a commission at no additional cost to you.
Decoys
Depending on the type of predator you're dealing with, a decoy can be an extremely effective method to keep your pond fish safe. These decoys include:
Blue Heron Decoy - Blue Herons will come to your pond for a meal, but if you have this statue they'll quickly be shooed away! This is because these birds prefer solitude and don't like sharing their food source.
Kircust Garden Statue Metal Heron Decoy
Price:
Clicking this link to make a purchase may earn us a commission at no additional cost to you.
Alligator Decoys - Alligators are the natural predators of many other animals in ponds and can scare off any potential fish-eating visitors. Adding an alligator decoy to your pond is a safe and effective method of predator control. Plus they make an interesting conversational piece when you have guests over!
Outdoor Water Solutions Floating Alligator Marker
Price:
Clicking this link to make a purchase may earn us a commission at no additional cost to you.
And there are many more types of decoys available to help protect your pond or water garden. Just be sure to choose a decoy that will naturally scare off the type of predator you're dealing with.
Pond Netting
If you're having trouble keeping predators out of your pond, netting is a trick that may work. Not only does pond netting keep leaves and other debris from falling into the water, but will also discourage many animals looking for an easy meal to get in as well!
Dewitt Deluxe Pond Netting - 1/4in Mesh
Price:
Clicking this link to make a purchase may earn us a commission at no additional cost to you.
Motion Sensors
Scarecrow motion-activated sprinklers are a great option for those that want to keep their pond safe without having the hassle of installing alarms (or the annoying noise). These devices will activate when they sense movement and can be set up in such an efficient way so as not to annoy your neighbors, no matter how close you live by them!
Orbit Yard Enforcer Motion-Activated Sprinkler
Price:
Clicking this link to make a purchase may earn us a commission at no additional cost to you.
Make Your Yard Less Inviting
Pests are looking for food and shelter, so the first way to protect your pond from predators is by making your home less appealing! Keep it free of overgrowth, tall grasses, or other hiding places. Don't leave pet food outside – store in air-tight containers. Avoid attracting snakes with the removal of rodent foods - they're known prey items too!
Pond Depth
The deep end of your pond should have 3 feet or more of water so that predators don't wade into it looking for prey; this not only protects both the predator and its food but also gives fishes a spot to feel safe from outside threats.
Set a Trap
It's easy to forget that sometimes the best way of dealing with a problem is not extermination but prevention. Minks, raccoons, snakes, and muskrats can be deterred by using traps before they have time to cause any real damage.
Plant Cover
Adding floating pond plants, like lily pads, frogbit, and other aquatic vegetation will help hide your fish from pond predators. In addition to providing a temporary hiding spot for the fish, these water-dwelling florae also add nutrients to the water that are key in maintaining a healthy pond environment.
Pet Patrol
A dog is an excellent deterrent to pond fish predators. However, not any old pup will do though. Your best bet is one that has a disposition for chasing after prey; Labradors and Spaniels are good examples of these breeds.
They don't have to learn how to attack a potential predator either: all they need is noise as an effective deterrent. Running towards the pond barking at full volume, and even the rattling of their collar is usually enough to scare off any predator! Be sure to reward your pup for their hard work!
Repellents
Repellents use smell, taste, and/or sound to ward off predators like deer, squirrels, and raccoons. They are very versatile because they can be applied wherever you desire. Just keep in mind, most repellents must be reapplied regularly or after rain.
FAQs
Do squirrels eat fish from ponds?
Squirrels have a taste for an assortment of foods - but they usually don't eat fish out of ponds. There's something about water that squirrels just can't stand; if it involves swimming, the little critters will avoid it at all costs. However, if it's convenient and they are hungry enough, they may try to eat a fish from a pond.
What eats goldfish in a pond?
Goldfish have many predators (too many to list here), but some of the more common goldfish predators include:
Cats
Snakes
Dogs
Raccoons
Foxes
Coyotes
Otters
Herons
Birds of Prey
Snapping turtles and other turtle species