Pond Academy is reader-supported. Buying through links on our site may earn us an affiliate commission. As an Amazon Associate I earn from qualifying purchases.
Pet goldfish will typically have a different diet depending on if they live in an indoor aquarium or an outdoor pond.
An outdoor pond setting will naturally have a buffet of food sources your goldfish can feed on, in addition to any supplemental food you provide them.
So, what do goldfish eat in a pond?
Let's look at what goldfish naturally eat in a pond and cover some of the best foods you can give your pet goldfish to keep them healthy and happy.
What Do Pond Goldfish Eat Naturally?
Goldfish are naturally omnivores and eat aquatic plants, insects, crustaceans, and macroinvertebrates such as mosquito larvae. Larger goldfish may also eat smaller fish, frogs, and tadpoles.
Goldfish love to eat algae in ponds, as well, putting them (and their koi carp cousins) high up on the list of the best pond algae eaters, helping to keep your pond clean.
Goldfish are opportunistic eaters, so they will essentially eat anything that's around.
As a part of a goldfish's natural diet, you can also feed them supplemental food to ensure they are getting all the nutrients they need to grow big, healthy, and bring out their vibrant colors, which brings us to...
What Is the Best Food for Goldfish in a Pond?
The best food for goldfish in a pond is easily digestible, contains the essential vitamins and nutrients for optimal health, and preferably floats to create less waste in your pond and keep it clean.
While many brands and types of pond goldfish food on the market fit this bill, we recommend Tetra Pond brand fish food.
More specifically, if your goldfish or koi are smaller, we recommend Tetra Pond Flaked Fish Food.
TetraPond Flaked Fish Food
Price:
Clicking this link to make a purchase may earn us a commission at no additional cost to you.
These flakes can be the primary meal for your pet goldfish in the spring, summer, and fall. Basically, when the pond water temperature is above 50 degrees F. They carry a Tetra Pond Spring & Fall Diet Food for when the water temperature is between 40 and 50 degrees F.
Tip: When water temps drop below 40 degrees F, stop feeding goldfish altogether.
As your goldfish grow bigger, you can upgrade them from flake food to sticks.
TetraPond Pond Sticks Pond Fish Food for Goldfish and Koi
Price:
Clicking this link to make a purchase may earn us a commission at no additional cost to you.
These sticks quickly soften, making it easy for your fish to consume and digest. And again, they contain all the essential vitamins, minerals, nutrients, and macronutrients (protein, fat, and carbs) for goldfish health and increased lifespan.
Just remember, the water temperature will play the most significant role in the amount and how often you feed your fish.
Refer to our koi and goldfish feeding chart for the optimal meal frequency.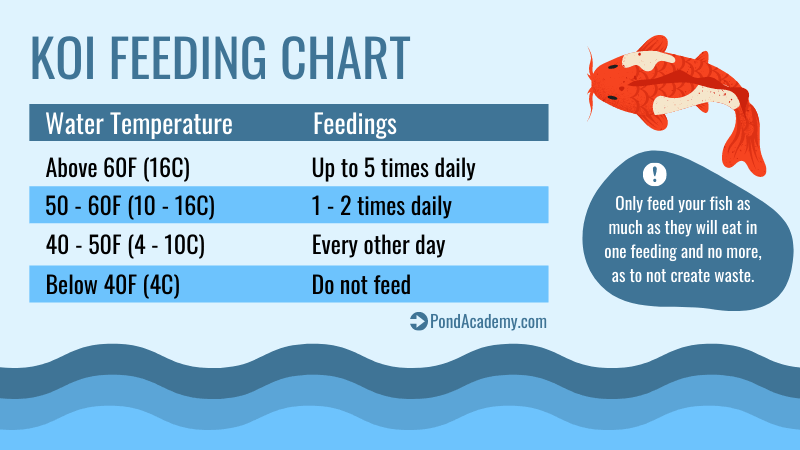 Tip: You should only feed your goldfish as much food as they can consume in 5 minutes. This will help prevent overfeeding your fish and excess food from sinking to the bottom of your pond, creating extra waste, water quality issues, and other problems.
And to bring about the brightest red and yellow colors from your goldfish (and koi), you can feed them Tetra Pond Koi Vibrance. This is not just a koi fish food (which one might assume from the name), as it's designed to bring out vibrant colors in goldfish, as well.
Tetra Pond Koi Vibrance
Price:
Clicking this link to make a purchase may earn us a commission at no additional cost to you.
Apart from store-bought fish flakes and pellets (which are an extremely convenient way to ensure your fish get a nutritious, balanced diet), you can also feed live food to your pond fish.
Most live food is available at your local pet store and can include brine shrimp, worms, fly larvae, mealworms, aquarium snails, clams, and even live aquatic plants, fruits, and vegetables.
Do You Need to Feed Pond Goldfish?
We just looked at some of the best supplemental foods you can feed goldfish in your pond.
But, since goldfish typically have plenty of naturally occurring food sources like algae, etc., do you need to feed pond goldfish?
The fact is, goldfish can live in a pond (and thrive) without supplemental feeding as long as the pond itself isn't overcrowded with fish and running an over-aggressive pump and filtration system, leaving too many fish without enough natural food sources. As mentioned above, goldfish can happily live on a diet consisting of natural plant material, algae, larvae, insects, and more.
This is especially true in the winter months as a goldfish's metabolism slows down and rarely eats.
While it is not required to feed goldfish in a pond (in many cases), providing them with high-quality food may increase their lifespan, color, size, and general health.
Plus, feeding your pond fish and giving them treats now and then is all part of the fun of owning them.