Pond Academy is reader-supported. Buying through links on our site may earn us an affiliate commission. As an Amazon Associate I earn from qualifying purchases.
Pond turtles are omnivorous reptiles, meaning they eat both plants and meat.
But that doesn't mean they can, or should, eat just anything.
For the healthiest, happiest pond turtles, there are certain foods they should eat and foods they should avoid.
So, let's look at exactly what pond turtles eat. And if you're keeping turtles in your pond as pets, what you should, and shouldn't, feed them.
What Do Pond Turtles Eat?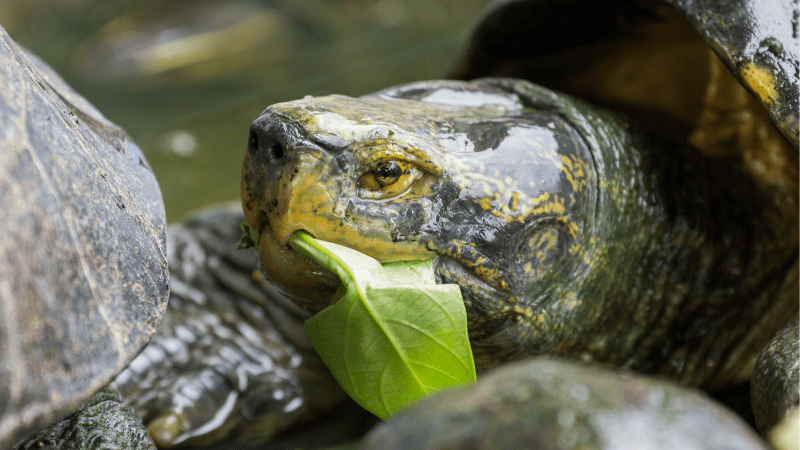 As mentioned above, pond turtles are omnivorous species. And this goes for any type of turtle that you'll most likely find in your pond - slider turtles, painted turtles, mud turtles, and even snapping turtles.
A wild pond turtles diet will typically consist of:
Crayfish, pond snails, tadpoles, frog eggs, and sick or dead fish
Earthworms, crickets, cockroaches, mealworms
Leaves from aquatic plants like water lilies and duckweed
Water striders, mosquitoes, and other insects that live on the surface of the water
In other words, pond turtles eat various worms, insects/arthropods, vegetation, and even some fish.
What Can I Feed a Pond Turtle?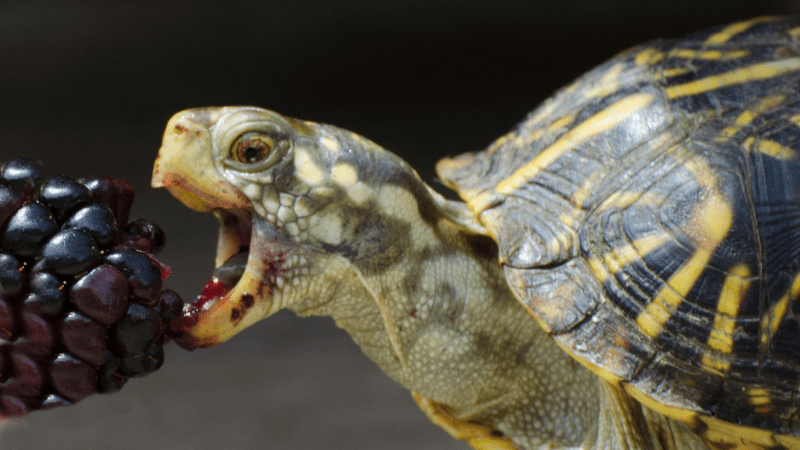 Since turtles are omnivorous and naturally eat plants and meat, you should base your turtle's diet on just that.
And while there are some excellent commercial turtle foods available, it's typically advised not to make that their entire diet. In other words, you'll still want to mix in a variety of vegetation and animal products, along with any store-bought food you might give them (we highly recommend Tetra ReptoMin).
Tetra ReptoMin Floating Food Sticks For Aquatic Turtles
Price:
Clicking this link to make a purchase may earn us a commission at no additional cost to you.
So, what can you feed turtles? Some ideas include:
Lettuce, spinach, and other greens
Aquatic plants like water lilies, elodea, etc.
Fruits like apples, melons, chopped berries
Crickets
Earthworms
Minnows
Ghost shrimp
Feeder fish
Of course, this is not an exhaustive list, but rather some healthy, cheap, and easily accessible items you can feed your turtle.
Now, with that said, there are cases where you might not even need to feed the turtles in your pond.
For example, if a wild turtle happened upon your pond and decided to call it home, for the time being at least, then your pond's habitat likely has everything the turtle needs to survive. That's what drew it there in the first place, whether you want it there or not.
Related: How to Get Rid Of Turtles in a Pond
Especially if your pond is full of aquatic vegetation and attracts a lot of insects and so on.
However, if you keep pet turtles in a pond, there may not be enough natural food for it to survive. In that case, you will need to supplement its diet. Luckily, feeding pet turtles is part of the fun of owning them!

Tip
Only feed your turtle what it will eat in one sitting, typically just a few minutes. Any excess food will sink and rot in the water, causing water quality issues.
Related: Turtles in a Pond: Good or Bad?
Baby turtles will typically eat the same food as adult turtles, but they have higher protein requirements and should be fed every day (as opposed to every other day for adult turtles). Be sure to feed young turtles more pellets and/or feeder fish than fruits and veggies.
Tetra ReptoMin Floating Food Sticks For Aquatic Turtles
Price:
Clicking this link to make a purchase may earn us a commission at no additional cost to you.
What Foods Are Bad For Turtles?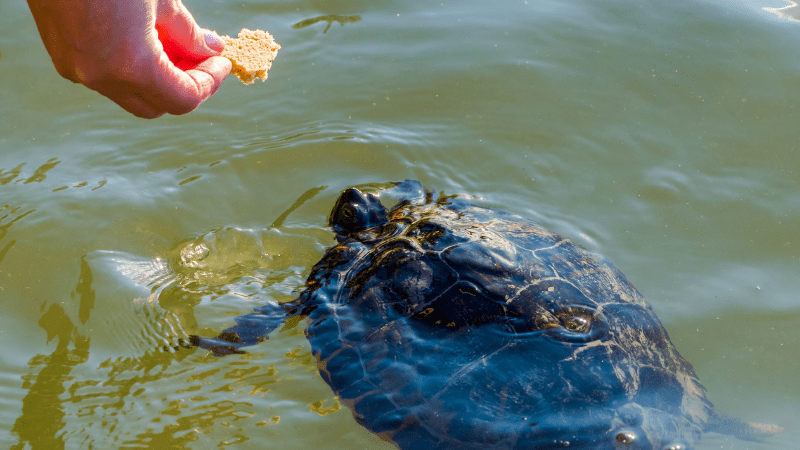 As important as it is to feed your pond turtles the right foods, there are also certain foods that you want to avoid.
A good rule of thumb is that you shouldn't feed it to your pond turtle if it's not fruit, vegetables, or animal meat.
This rule is especially important if you feed your pond turtle human foods often. And be sure not to feed them bread or dairy, as they don't possess the enzymes to break them down. Also, steer clear of sweets and extremely salty foods.

Tip
Ensure the food you feed your turtle does not have any pesticides or herbicides on it as these may harm your pet turtle.