Pond Academy is reader-supported. Buying through links on our site may earn us an affiliate commission. As an Amazon Associate I earn from qualifying purchases.
In colder climate zones, where the water temperature of your pond drops below 40° F (4° C) during winter, you should stop feeding your pond fish.
But, as the winter season winds down, the snow and ice melt, and spring nears, you need to start thinking about reintroducing food to your fish.
So, let's learn when you should start feeding your pond fish after winter to keep them (and your pond) as healthy as possible. Plus, our pond fish feeding chart will make it easy to know exactly when and how much you should feed your fish throughout the year.
When Should I Start Feeding Pond Fish After Winter?
You should start feeding koi, goldfish, and other pond fish after winter when the water temperature regularly stays above 40° F (4° C). In other words, there's not a specific season or month when you should start feeding them again, but rather when the temperature of the pond's water reaches a certain point.

IMPORTANT
This applies to cold water fish you overwinter in an outdoor pond. Tropical pond fish that you relocate to a tank or aquarium indoors during colder weather will have a different feeding schedule.
This is important to keep in mind throughout the year, not just after winter. The feeding schedule for your fish should be based entirely on the water temperature of your pond. This is how you know when to stop and start feeding them and how much, at different times of the year (assuming you feed them at all).
It also stresses the importance of having a quality pond thermometer and regularly check your pond's temperature.
Davespa Large Floating Pond Thermometer
Price:
Clicking this link to make a purchase may earn us a commission at no additional cost to you.
Koi Feeding Temperature Chart
This handy koi feeding chart will help illustrate when and how much you should feed your fish.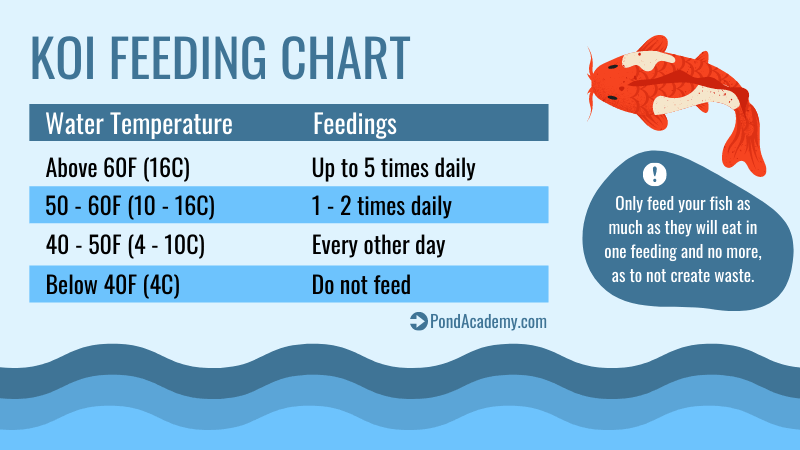 As you can see from the chart above, once the water temperatures rise (not air temperature, but water) to 40° F (4° C) and regularly stay there for a week or more, you can safely begin feeding your fish every other day.

Tip
This is also the ideal time to open your koi pond for the spring and start the clean-up process.
As the temperature of your pond rises, you will need to adjust the fish's feeding schedule according to the temperature range on the chart.
And don't worry, your pond fish can safely go without food for the duration of winter (when water temperatures are below 40° F) since their metabolism slows down and they become less hungry as they enter what is known as torpor (see Do Pond Fish Hibernate in Winter? for more information).
In fact, it's important to NOT feed your fish during this time as they will typically stop eating, and any food not consumed will just sink to the bottom of your pond, potentially creating water quality issues. And if they do happen to eat when the water temperature is below 40° F, the food can potentially sit undigested in their system, causing health issues and, in some cases, death.
What to Feed Pond Fish in Spring
You should feed your pond fish a high-quality food that is easily digestible, preferably floats on the surface of the pond (unless you have bottom feeders), and contains all the essential vitamins, nutrients, and protein needed for optimal health and longevity.
We recommend Kaytee Koi's Choice Premium Fish pellets as it meets all of those requirements. It's perfect for koi carp, goldfish, and other fish you might have in your outdoor pond or water garden.
Kaytee Koi's Choice Premium Fish Food
Price:
Clicking this link to make a purchase may earn us a commission at no additional cost to you.
While feeding pond fish bread and other foods is fine, the bulk of their diet should be high-quality fish food, as mentioned above.