Pond Academy is reader-supported. Buying through links on our site may earn us an affiliate commission. As an Amazon Associate I earn from qualifying purchases.
Having ducks visit your pond is a fun experience.
But, unless the conditions are right, it can be difficult to attract these types of birds.
So, let's look at 5 simple ways we can help attract ducks to a backyard pond, how to get them to stay once they are there, and whether or not ducks are actually good for your pond.
How To Attract Wild Ducks To Your Pond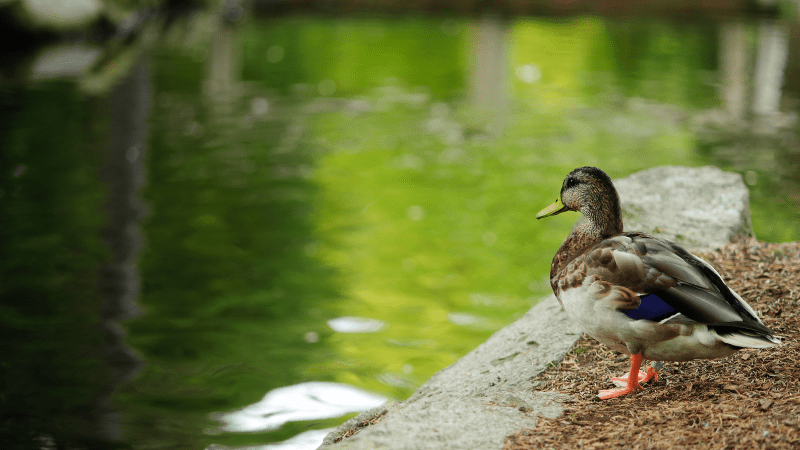 Ducks are notoriously hard to attract to your typical backyard pond. They require a very specific habitat that most backyards just don't provide.
Plus, only a few duck species will truly be comfortable enough to visit your property as it requires being close to human habitation. Wood ducks, Mallards, and Muscovy ducks are a few of the waterfowl you might find frequenting backyard ponds.
So, if your region has the right duck species and you want to attract them to your pond, here are 5 simple ways for how to make your pond attract wild ducks.
Food: Supplying ample amounts of food, which is one of their basic needs, is step one in attracting ducks. But, what do ducks eat? Ducks are omnivores and prefer feeding on a wide variety of foods including seeds, grains, berries, nuts, bird feed, grass, and so on. And luckily, they also like to eat algae, aquatic weeds, and insects - all of which can be a real nuisance. Just keep in mind, some species of ducks prefer feeding on small fish, pond snails, and oxygenating plants. So, if you have any of these that you like and want to keep, then attracting ducks might not be the best idea.
Hospitable Environment: Along with food and water, ducks need shelter and a hospitable environment. The ideal environment will include a large body of water (the larger the better), a fountain or waterfall to create splashing noise to attract ducks, and varying water depths (shallow shelves and deeper depths for diving) will all help.

TetraPond Water Garden Pump

Price:

Clicking this link to make a purchase may earn us a commission at no additional cost to you.

Adding plants in and around the pond will effectively add another food source and help protect ducks and pond fish from predators and inclement weather. Also, providing nesting sites in the form of shrubs and plants will help keep the ducks around.

Water Hyacinths Floating Water Garden Plants (12 live plants)

Price:

Clicking this link to make a purchase may earn us a commission at no additional cost to you.

And, obviously, you don't want a hunting ground anywhere nearby which could scare off ducks.
Eliminate Chemicals: Herbicides, algaecides, and insecticides, even those deemed safe for use in and around ponds, will only kill food sources for the ducks and potentially eliminate any viable shelter. Also, keep in mind that waterfowl migrate around, and any chemicals they come into contact with in your pond will potentially be carried over to another body of water, which could have detrimental effects. So, choose natural removal methods for algae, weeds, and annoying insects.
Deter Predators: To make a pond more inviting, you'll want to deter any natural predators from not just the pond, but the surrounding area. Foxes, raccoons, coyotes, feral cats, etc are all seen as predators and should be kept as far away from your land as possible. An owl decoy is a great option to deter these small predators.

Rotating Head Horned Owl Decoy

Price:

Clicking this link to make a purchase may earn us a commission at no additional cost to you.

Even your pet dog or cat may appear as a predator so it's a good idea to keep them away from your pond as often as possible if you want to maximize the potential for ducks to come.
Duck Decoys: Adding life-like duck decoys in and around the water is an effective way to attract ducks to your pond that are passing by. And since ducks feel safety in numbers, the more decoys you can add to the water (and around it) the better chance they will attract ducks. Once you've piqued their interest with the decoys, and you have all of the above methods in place, plenty of food, a hospitable environment with shelter, and no predators around, they will be more likely to stick around.


AvianX Top Flight Duck Open Water Mallard Decoy (6 Pack), Green

Price:

Clicking this link to make a purchase may earn us a commission at no additional cost to you.
How To Get Ducks To Stay At Your Pond
Attracting ducks to your pond or lake is one thing, but getting them to stay is another. After you attract the ducks, it's important to first, give them a reason to stay, and second, make sure they don't get scared off.
Nesting Sites: Ducks won't stick around if there's no suitable place to nest. For some ducks, having a good amount of aquatic plants and/or shrubs around the water will provide sufficient nesting ground. However, some ducks prefer to nest off the ground. Your best bet is to provide a mix of nesting habitats with ground shrubs and add a duck box to either a nearby tree or simply install it on a post. And make sure your duck box is made of untreated wood as some treatments are toxic to birds.

Cedar Duck House

Price:

Clicking this link to make a purchase may earn us a commission at no additional cost to you.

Keep Pets Away: House dogs and cats can be seen as a threat by ducks, even if they are friendly. So, aim to keep your pets out of sight or the ducks probably won't stick around for long.
Keep Water Accessible: In order for ducks to stick around, you need to make sure you keep a hospitable environment year-round. That includes using a de-icer or heater in the colder months to ensure the water is accessible, refrain from covering the water with pond netting in fall, and so on. Remember, ducks are very picky about where they nest so it's important to keep the area in and around the water as habitable as possible at all times.
Are Ducks Good For Ponds?
Aside from the visual appeal of having wild ducks, they do provide some benefits for your pond or water garden. And they bring with them a few concerns, as well.
Ducks love to eat! And as we mentioned above, they eat a lot of different types of food, including algae, aquatic weeds, and insects, none of which you want in your water.
However, ducks also like to eat small fish (and their eggs) and aquatic plants, both of which you most likely want to keep. They also need to defecate, thus adding more waste to your water, which will contribute to sludge and provide nutrients for algae growth. And since they travel from one body of water to another, there's the possibility that they will transfer parasites and bacteria to your water.
So, whether you want to attract ducks to your pond or not is up to you, just be aware of the pros and cons and have a maintenance plan in place if they decide to stick around for a while.