Pond Academy is reader-supported. Buying through links on our site may earn us an affiliate commission. As an Amazon Associate I earn from qualifying purchases.
There are a lot of things in this world that are extremely difficult…
Learning Mandarin, plugging in your USB cord the right way the first time, keeping up with laundry…
But one thing that doesn't have to be difficult is draining a pond!
With the right equipment (and a little know-how), it shouldn't take more than an hour to drain your typical backyard pond.
But before we get into the how…
Should I Drain My Pond?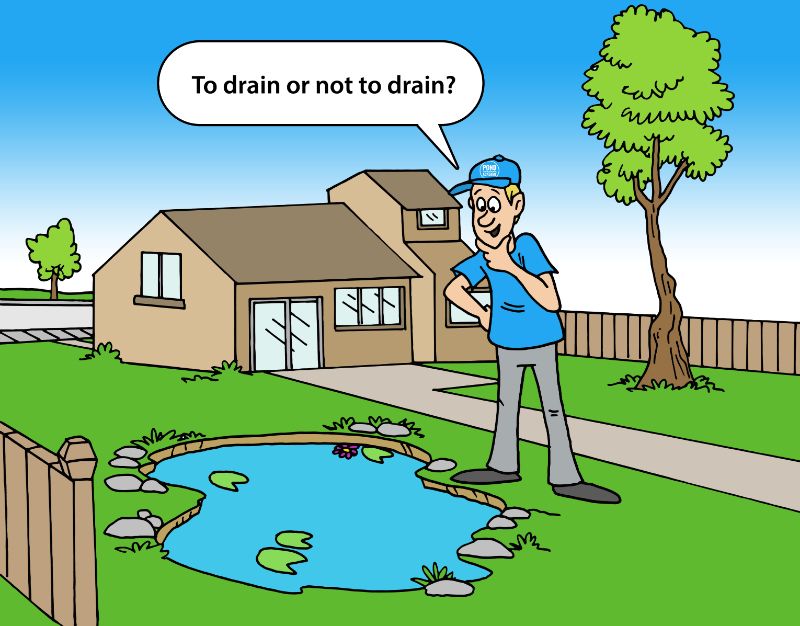 First, ask yourself if your pond really needs to be drained. Even if you feel it's absolutely necessary, it may have a devastating impact on your pond's ecosystem.
A matured pond has a vast ecosystem that is very complex. It contains many life forms, such as pond plants, insects, good bacteria, and microorganisms. When you drain the water from the pond, the ecosystem may potentially be destroyed. Even if you were to refill the pond with water in the future, it might still take a while for the ecosystem to restore itself.
And you'll really want to be careful if your pond is stocked with fish. Pond fish, such as koi and goldfish depend on bacteria to ward off hazardous things like nitrites and ammonia. If there are no bacteria in a newly filled pond, it may be difficult for your fish to survive.
Now that I've got you scared out of your mind about draining your pond, there are a few circumstances when completely draining your pond water is necessary. For instance, if your pond liner needs to be replaced or repaired, then in some cases, you may need to drain the pond to reseal the liner (hopefully, the pond leak isn't in the lowest point of the pond, so you don't have to completely drain it).
There are also cases where you may need to drain all the water if you're renovating, redesigning, or upgrading your pond or water garden in some way.
Just keep in mind that if you only need to clean your pond, it's not necessary to drain the water out completely. Proper pond filtration, a pond skimmer, and even a pond net if you have large debris falling into your pond should help keep your pond clean. In fact, here's exactly how to clean a pond with draining it in just three easy steps!
Again, if you were to drain the pond, its natural ecosystem would most certainly be interrupted, causing damage to the nitrogen cycle and killing off any beneficial bacteria.
How to Drain a Pond With a Pump?
Hands down, the easiest way to drain a pond is to use a pump. Especially if you have a large pond. There are several pump options available, such as a hand pump, submersible pump, or solar pump. The pump you choose should depend on the size of your pond and how quickly you want it drained.
Draining a Pond With a Submersible Pump
Submersible pumps are the recommended choice because they make draining ponds so much easier (and faster) than other methods.
If you already have a pond pump running, then draining your pond is as simple as moving your outtake hose to where you want the water drained, preferably a garden, as your pond water is a natural fertilizer (more on this later).
If you don't currently have a pond pump (or want to replace your current one), check out the highly-rated TetraPond submersible pump! It's energy-efficient, UL listed, and is one of the best pond pumps on the market today.
Tetra Pond Debris Handling Pump
Price:
Clicking this link to make a purchase may earn us a commission at no additional cost to you.
If it's not already, you'll need to put your submersible pump in the deepest part of the pond for maximum results. If your pond is really deep, you'll need a pump powerful enough to lift the water out of the pond and out to the location of choice. If you look in the owner's manual of the pump, it should state the maximum value of its "head height." This refers to the maximum height at which the pump can lift water from the pond before it starts to lose power. A higher value means the pump can be placed deeper in the water and can be drained much farther away.
An external pond pump can work too, but it needs to be installed properly to be effective. For instance, if you position the external pump underneath the water line and the intake is fixed, then all the water that is under the intake height will be difficult to drain. A hose extension can remedy this problem if it's positioned at the pond's deepest point. It needs to be fitted to the intake while the outtake is positioned in the garden or any area where the water can drain. Again, I'd recommend a submersible pump for draining your pond.
Tetra Pond Debris Handling Pump
Price:
Clicking this link to make a purchase may earn us a commission at no additional cost to you.
Draining a Pond With a Solar Power Pump
A solar pump should work fine if you have a smaller pond. It is slower and doesn't have the strength of an electrical pump, but it is a more economical option if you don't have much water to drain.
The best time to use a solar pump is during the sunny months of summer. The intense UV rays from the summer sun can power a solar pump with no problem.
Plus, a lot of solar pumps have a fountain-like feature. This gives it the lifting effect needed to drain the pond water effectively. Of course, solar pumps don't have the most powerful water-lifting capabilities, but that's why they're recommended for shallower ponds where it doesn't take a lot of power to get the water up and out of the pond and to your desired location.
To get the most water drainage possible out of your solar pump, you need to choose a model which has a solar panel with a large capacity. Also, try to find one with a flow rate anywhere from 200 GPH to 500 GPH. Solar models generally have a head height of a couple of meters. But if the GPH is higher, the pump typically has a higher maximum head height.
Check out our solar pond pump reviews to find the best pump to drain your pond.
Solariver Solar Water Pump Kit
Price:
Clicking this link to make a purchase may earn us a commission at no additional cost to you.
The great thing about a solar pump is that you don't need to connect it to an electric power main. For this reason, you can position the solar pump in extremely remote locations where traditional pumps could never go. The proper hose piping usually comes with these solar pump models too. Although, it may be necessary to purchase additional hose extensions, depending on how far away you want to drain the water.
Solar pumps are not recommended for larger ponds because of how slow they are at draining water. For a small pond, it's typically not a big deal if the draining process is slow since, well, the pond is small, and it still won't take very long. But if you have a large pond and don't need it drained quickly, then a solar pump can work for you.
Overall, you'll save money with a solar pump in both the purchase and usage expenses because there is no electricity needed to run it. And when you're not draining a pond with it, use it to power your favorite water feature! Who doesn't love the "frog peeing in the pond" water statue!
Solariver Solar Water Pump Kit
Price:
Clicking this link to make a purchase may earn us a commission at no additional cost to you.
Draining a Pond With a Hand Pump
Hand pumps may be old-fashioned because of the amount of manual labor involved> However, they are still an effective and cost-saving option for draining small ponds (or a large pond if you're looking for one hell of an upper-body workout).
Just be sure to have a lengthy hose so that it is easy and simple to extract the water. Your typical siphon hoses are often made to transfer water at a speed of 2 to 10 gallons of water per minute. A good quality hand pump has a flow rate of 5 to10 gallons per minute. This means if you had 100 gallons of water to drain from your pond, then 10 to 20 minutes is how long it would take. Alternatively, if the water were to drain without a pump being used (by using the pond siphon system below), it would take ten times longer!
Overall, a hand pump and siphon hose make it easier to manage how much water is discharged. If you have patience, and some upper body strength, then manually draining your pond with a hand pump is an option.
King Innovation 48036 Siphon Utility 36" Pump x 36" Hose
Price:
Clicking this link to make a purchase may earn us a commission at no additional cost to you.
How to Drain a Pond With a Pond Vacuum Cleaner
Pond vacuums are traditionally made to clean ponds. In fact, they're one of our recommended pond cleaners as they are a great option to help control pond algae, remove organic debris, and suck up pond sludge.
But if they have an adequate discharge system, they can be used to drain ponds too. If you don't already have a quality pond vacuum, look for one with a discharge system that will run while it sucks up the water. This will save LOADS of time as some models make you have to switch off the suction, and then turn on the discharge (they don't run simultaneously).
The Oase Pondovac 5 is a great example of a highly recommended pond vacuum because it cleans and drains water quite well. It also features the aforementioned automatic discharge system, which keeps it operating consistently. As I said, many other vacuums that discharge water must temporarily deactivate their suctioning power for their water to discharge out of the backflush port. If you're not in a hurry to clean, then this shouldn't be an issue. On the other hand, if you plan to drain and clean a large amount of water and don't want to spend eternity doing it, then you'll appreciate the automatic discharge system of the Pondovac.
Oase Pondovac 5 Pond Vacuum Cleaner
Price:
Clicking this link to make a purchase may earn us a commission at no additional cost to you.
The Pondovac 5 pond vacuum can do this because it features 2 high-capacity chambers. Once one of these chambers gets filled completely with water, an automated switch is activated in the vacuum, which causes the chamber to empty the container. The stored water is discharged through an outlet hose while the suction remains strong and consistent. One chamber is emptied as the other chamber is filled.
Plus, it comes with a long 16' suction hose and a 32.8' discharge hose making emptying your pond water into a distant location pretty easy. You can always get an extension hose if that still isn't long enough (just how big IS your yard?!)
A standard pond pump is always recommended to drain your pond. But it can be done with a pond vacuum. And it's just a nice tool to have in your arsenal as they make pond cleaning super simple!
Oase Pondovac 5 Pond Vacuum Cleaner
Price:
Clicking this link to make a purchase may earn us a commission at no additional cost to you.
How to Drain a Pond Without a Pump
There is a scientific principle called the Bernoulli Equation which relates to various types of fluid flow. Don't worry, I won't bore you with the inner workings of this principle, just understand it relates to how we are going to get that pond water out of our pond without using any sort of pump. You don't even have to suck on the end of the tube to get the water flowing unless you enjoy drinking pond water. Then by all means go ahead.
Tools and Accessories Needed:
Nozzle
Brick / Rock
Syphon Hose (faster) or garden hose (slower)
How to Siphon Water Out of a Pond With a Hose
Take your garden hose and connect it to a spigot. Ensure this is a lengthy garden hose that can extend between the pond and the place where the water will be released. If your hose is not long enough, then use a hose extension or an additional hose.
Next, take the hose's free end and connect a nozzle to it.
Activate the spigot and water will enter the hose. You'll want it completely filled.
Twist the nozzle tightly until no more water is coming out. The spigot should be turned off too.
Disconnect the garden hose so that it is no longer attached to the spigot. Hold it up quickly in a vertical position to prevent more water from coming out.
Use your free hand to grab the hose by its nozzle. Bring both ends of the hose to someplace that is at a lower level than the pond. This is a place to send the water. Place the nozzle end of the hose on the ground.
Take the hose's open end to the pond. Find the deepest area and place the tip of the hose under this water. Keep the end weighed down with something heavy, like a rock or brick. It is important the end stay submerged in the water, or else the siphoning won't work anymore.
Keep the nozzle end low to the ground. Remove the nozzle. You can expect water to come rushing out quickly.
Why Does Siphoning Work?
When water has filled the hose, the siphoning effect is created. This causes water molecules to stick to one another inside of the hose. As a result, the water can rush out of the open end of the hose. While this occurs, the pond water gets pulled out from behind.
REV-X Mega Syphon - 3/4" x 10 Foot Long Self Priming Safe Siphon Hose
Price:
Clicking this link to make a purchase may earn us a commission at no additional cost to you.
If this method is still clear as mud, here's a quick video on how to use a siphoning technique. He's siphoning water off of his pool cover, not from a pond, but the principle is the same.
Where Should You Drain Pond Water?
Pond water should be released into a garden because it is a natural fertilizer. There is no sense in releasing the pond water into a drain. Why throw away so many great microorganisms and nutrients that are in the water? I mean, what kind of animal are you? Wouldn't it be better for your garden to get these nutrients instead? Seriously though, the phosphates and nitrates in the pond water alone serve as a more powerful fertilizer than many commercial fertilizers. Put them to good use!
Alright, so maybe you don't have a garden. Try watering your fruit trees or landscaping plants and bushes. In fact, spread the water throughout the middle of your lawn. It would still be better than using the city sewer for pond drainage. Once the soil in your lawn receives the nutrients from the water, they get absorbed deep into the roots of any trees and plants nearby. Everyone wins!
How to Properly Refill Your Pond After Draining
If you use regular tap water to refill your pond, then treating the water will help promote a healthier ecosystem for any fish and/or pond life. This is true whether you fully or partially drained the pond water. It doesn't matter what kind of fish are in the water either, whether they're goldfish or koi.
Remember that tap water has high levels of chloramine and chlorine in it. If this water is not treated beforehand, these chemicals will eliminate the good bacteria in the water and may hurt your fish and other pond organisms. Therefore, these chemicals must be dechlorinated first, and then you can safely add fish and other wildlife to the pond. Check out our guide on how to dechlorinate water for a pond for the best dechlorinating methods.
Seachem Pond Prime Water Conditioner & Dechlorinator
Price:
Clicking this link to make a purchase may earn us a commission at no additional cost to you.
Once the pond is drained, most of the natural bacteria in the water have likely been killed off, as well. That's why we suggest adding beneficial pond bacteria to help promote a healthy ecosystem as quickly as possible. Is this absolutely necessary? Some would argue no, but in my opinion, it can help give peace of mind and speed things up.
Aquascape Beneficial Bacteria for Pond and Water Features
Price:
Clicking this link to make a purchase may earn us a commission at no additional cost to you.
Furthermore, pond water quality tests need to be done to ensure that your fish will be safe in the water. Check for KH, pH, ammonia, and nitrites and see what their levels are. Any kind of water drainage, no matter how much, can affect these levels. Do the test before you drain the water and after you drain the water. That way, you can compare the values and notice their differences.
API 5 in 1 Pond Test Strips
Price:
Clicking this link to make a purchase may earn us a commission at no additional cost to you.