Pond Academy is reader-supported. Buying through links on our site may earn us an affiliate commission. As an Amazon Associate I earn from qualifying purchases.
A common misconception when you notice your pond water is murky is that you need to remove the dirty water and replace it with fresh, clean water to fix the problem.
This misconception is, in fact, completely unnecessary in most cases...
And may do more harm than good.
Not only can replacing the water result in problems in the future as you have disrupted the natural ecosystem of the water, draining the water out of your pond is only used in extreme cases and never in general cleaning.
When you remove water, you also remove these good bacteria and microorganisms – the natural filtration system in your pond ecosystem. When you add water, most often just from the tap, you are compounding problems, as most tap water is chlorinated, a chemical that your fish or your bacteria and microorganisms will not tolerate well.
So, you're probably wondering...
Is There Ever A Time I Should Drain My Pond?
Let's help you rule out whether you need to drain the water or not.
First, you never need to entirely drain the water in your pond, especially if you have wildlife. Allow some bacteria to remain in the pond for the health and benefit of the organisms you have in there.
Removing up to half of the water can sometimes go a long way in helping water quality. When you have a very overstocked pond, you may find that your water quality is poor, especially in summer when your fish produce more waste due to their metabolisms being higher.
Good bacteria can sometimes be overwhelmed when too much waste is built up, resulting in poor water quality. A small water change in these conditions may help improve the pond's water quality, but you certainly don't need to drain the entire pond.
Lastly, ensure that the water you use to refill your pond has been treated with pond dechlorinator for the safety of your fish, good bacteria, and microorganisms.
If you still insist on draining the water, check out our guide on how to drain a pond (with or without a pond pump).
How To Clean A Pond Without Draining It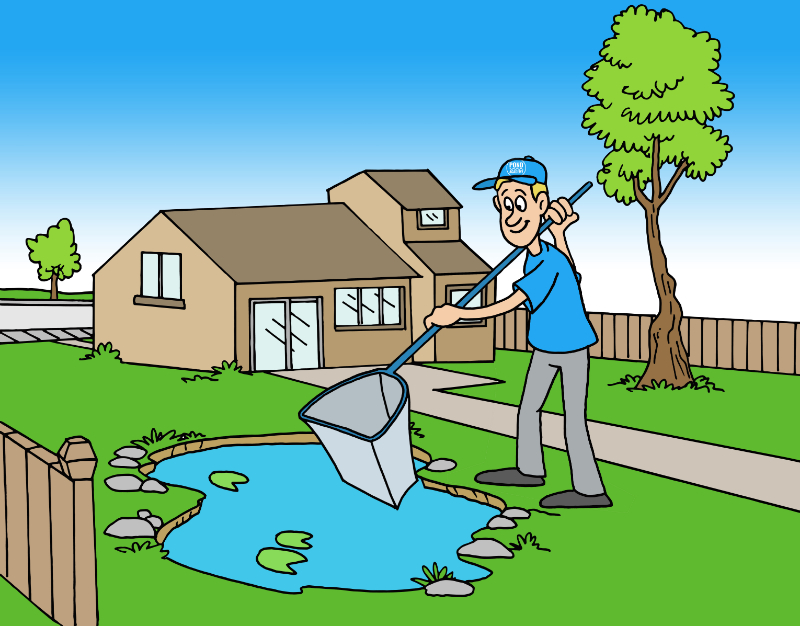 STEP 1: REMOVE DEBRIS
The first step in cleaning your pond is to remove any floating debris. You should do this regularly not only for the beauty of your pond but also to ensure that you catch it before it sinks and adds to the sludge at the bottom of your pond (which is harder to remove). These could be leaves, sticks and twigs, larvae, or dead insects.
Your best bet is to clean the top of your pond first before you attack the liner and bottom, or else you'll have to clean it again as it sinks.
Several pond cleaner products and tools on the market make debris removal a simple process. We will start by cleaning the debris away from the top of your pond with either a pond rake, pond net, or a pond skimmer. I would suggest that with small ponds, a simple pond net would suffice. Pond nets are much cheaper than skimmers and are a reasonable choice in keeping your pond free of debris. When choosing a pond net, ensure it has a long handle allowing you to reach over half the length of your pond and has a wide-open basket with fine mesh which will allow you to capture an array of debris.
Skimmers are automatic systems that constantly keep your pond clean of surface debris and foamy pond water. These resourceful creations go a long way in maintaining the overall health of your pond. They are a great investment if you have a large pond, are constantly battling with falling debris, or have a lot of fish and want healthy and clear water. Pond skimmers work around the clock to constantly remove even finer debris that you can't see.
There are two types of skimmers available. Box skimmers are better suited for large ponds because they have a higher capacity and quickly remove debris./p>
If you have a small pond, a floating or submerged skimmer is more applicable. They typically cost less and work great on a smaller surface area.
Now that you've tackled the top floating debris, we can move on to the debris that has settled on the sides and bottom of your pond liner. You know, that sludgy layer.
It's actually not essential to remove bottom sludge, but it is useful when your fish move into their hibernation period at the end of autumn.
This is typically when pond owners feel the need to remove the water to reach the sludge, but this would only be necessary if you were removing the sludge with a rake or shovel. As we now know, removing the water is dangerous for our pond's ecosystem, so the best way to remove the sludge is with a specifically designed pond vacuum.
Pond vacuums come in various shapes and sizes, and good ones come with several attachments that help you reach the difficult spots in your pond.
They allow you to clean the bottom of your pond without removing the water. If your pond is particularly deep, be prepared to pay a little extra for one that has good suction and perhaps a telescopic handle. Basic models will lose suction the deeper they go, so they are ideal for smaller ponds.
We should note here that if you have a wildlife pond, you may be interested in keeping the majority of your sludge. Sludge provides nutrients to plants and food for microorganisms and insects. If this is the case for you, it would be better if you did not manually remove the sludge with a vacuum but rather added beneficial bacteria as laid out in the next step to remove some sludge, but not all.
STEP 2: ADDING BENEFICIAL BACTERIA
OK, we've removed any floating debris and as much sludge as we want manually from our pond. Our next step is to add some beneficial pond bacteria to help maintain a high-quality standard of health.
There are two types of beneficial bacteria that you can purchase that you can try depending on your situation.
Pond sludge removers contain a high concentration of natural bacteria that break down any lingering waste in your pond. They work just like the natural bacteria and microorganisms in your pond and give your bacterial population a healthy boost while wiping out as much waste as possible.
If you have a wildlife pond, we mentioned above that you may wish to keep most of your sludge to provide nutrients to your plants and feed insects and microorganisms.
In this case, you can simply add beneficial bacteria to enhance the natural nitrogen cycle. Problems with sludge occur mainly in ponds that stock fish (like koi fish, etc.). Fish produce ammonia, and too much causes an imbalance in your pond. If you have no fish in your pond, then simply adding complementary bacteria without vacuuming your pond might be a cost-effective and better solution to cleaning your pond.
Here's how Aquascape Beneficial Bacteria can help your pond.
STEP 3: CONTROL ALGAE, CLEAN WATER
Although algae commonly occur naturally, even in a healthy pond, it's important to control the algae growth to avoid water quality issues and sludge buildup.
Algae blooms occur when conditions are ideal for it to grow, allowing it to quickly take over your pond.
Luckily, you don't have to remove the water to control algae in your pond. A UV clarifier, for example, destroys the algae at the cellular level and removes it from the water. This minimizes the number of dead algae contributing to the layer of sludge on the pond floor.
While a UV clarifier is an effective tool for free-floating algae, it's not going to do much for filamentous algae and sludge.
However, you can use a pond vacuum to suck out string algae and clean muck from the bottom of your pond quickly and easily.
A natural approach to controlling algae is by adding more oxygenating plants to your pond. They compete with algae for nutrients and, over time, gradually slow the growth of algae.
Pond snails are another effective and natural way to control algae growth in your pond. Just keep in mind that pond snails can reproduce quickly. If you have an overabundance of snails they may start feeding on your pond plants.
However, snails are a long-term solution. For quick fixes, a UV clarifier, pond vacuum, and even manual removal with your hands should be sufficient without you needing to remove any of the pond water.
Finally, ensure that you have an effective pond filtration system. Filtering your water by mechanical means helps remove debris, and a pond with a healthy biological filtration system will not have water quality issues.
You should not have to clean your filter unless it becomes completely clogged, as you will upset the natural bacteria present in your filter box. Keep an eye on your filter as you may need to replace parts as they become damaged over time.
Having a water filter in your pond is essential to ensure that the water quality in your pond is optimum and for the overall health of the pond. It will also help reduce the need for regular cleaning as the water is filtered from small debris.
A combination of your filtration system, a pond skimmer or regular use of a pond net to reduce floating debris, a UV clarifier, and regular additions of beneficial bacteria to your pond are the key steps to ensuring a healthy pond and pond life.
With the addition of a vacuum during deep pond cleaning to remove sludge and stubborn algae, you'll have a complete overhaul of your pond without the need to remove any water.
How Often Should I Clean My Pond?
You should do a major clean of your pond at the end of autumn and a smaller clean at the beginning of spring. If you don't have a pond filtration system, you'll have to clean your pond more frequently (and it will require more manual work). Check out our guide on how to keep a pond clean without a filter if this describes you.
Leaving your major clean until the end of autumn ensures your fish have minimal waste in their habitat moving into winter's hibernation or torpor period keeping them more comfortable and safer. In fact, it's step 1 in our guide to keeping pond fish alive in winter.
This is especially true in areas where ponds can freeze over, allowing for little to no gas exchanges to occur. Here oxygen levels are reduced, harmful substances slowly rise, and you may discover your fish are sick or even dead by spring.
So, a deep clean at the end of autumn greatly reduces such risks, and you can rest assured your pond is thriving all year long.
As a kick-start to the year, the spring clean is not as big as the autumn clean, but by removing old debris and sludge, you ensure your fish have the best start as they begin to get more active moving into the warm summer period.
Now is also a great time to supplement your pond with beneficial bacteria, boosting your pond's ecosystem to allow it to cope with the increase in waste your fish will produce as they are more active.