Pond Academy is reader-supported. Buying through links on our site may earn us an affiliate commission. As an Amazon Associate I earn from qualifying purchases.
What Is Duckweed?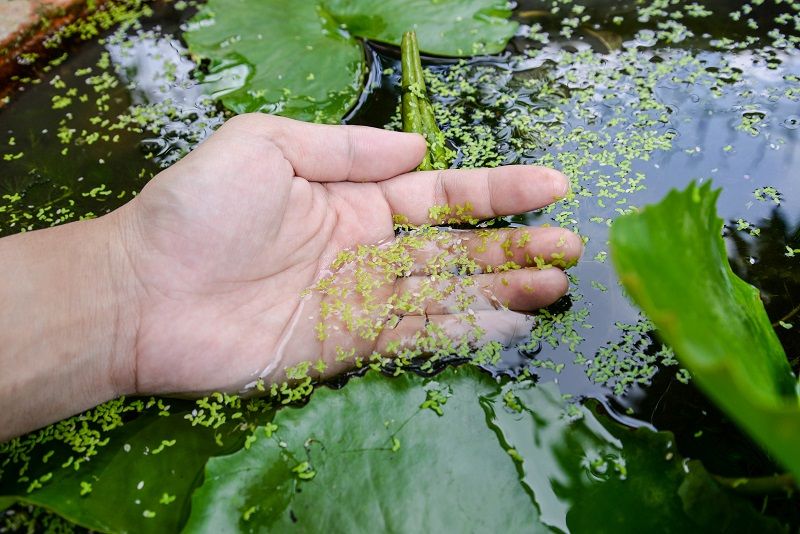 Duckweed (Lemna Minor) is a very small aquatic plant that floats on the surface of your pond and is part of the Lemnoideae family.
Common duckweed appears as a small green leaf (known as a frond) from the surface with a small root hanging below that resembles a hair. There can be between one and three fronds in total, with the largest fronds being up to a quarter of an inch in size. The appearance is quite similar to blanketweed, but duckweed is a plant where blanketweed is algae.
While it does have certain benefits, duckweed can quickly become a nuisance for a number of reasons and is often mistaken for pond algae.
If allowed to establish itself, this tiny aquatic plant can reproduce and cover the entire surface of your pond. As it is a similar color to grass, this can present a danger for those who are not aware the pond is there.
Full or even partial coverage can block sunlight from reaching underwater plants and can result in the pond water becoming deoxidized. This presents a problem for both animals and plants in the pond, as oxygen is required for them to survive. It also affects the growth of beneficial bacteria in the water, further damaging the pond ecosystem.
The growth of the plant also requires nutrients from the water. In certain instances, this will reduce the amount of nutritional matter available for other pondlife.
Eliminating a duckweed infestation, or any pond weed infestation for that matter should be done promptly to ensure the continued health and well-being of your pond environment. There are a number of methods for controlling and removing duckweed, some of which are more effective than others.
How Does Duckweed Grow?
Duckweed is a plant and so needs the same environment as any other plant to grow. When ponds are nutrient-rich, the growth of any aquatic plant will be promoted, not just those that you want to grow.
So, what causes duckweed to grow?
Ponds with a buildup of leaves and other old plant matter on the bottom of the pond create the ideal conditions for duckweed to grow. The decomposition of organic matter at the bottom of a pond releases chemicals and nutrients like nitrogen and phosphorus that are perfect for encouraging duckweed growth.
Other contributing factors to nutrient provision can include visiting animals (including birds like Canadian geese), lawn and plant fertilizer, agricultural runoff, and even leaking septic tanks.
Old static ponds are the most susceptible kinds of ponds for duckweed infestations. The lack of surface movement causes the water to become stagnant and allows the duckweed to settle – ponds that feature moving water or are even in windy areas are less likely to be filled with duckweed.
Duckweed is often found in conjunction with watermeal, which is an even smaller (but similar) plant.
If both of these plants take hold, it can be a long process to get rid of them as they can easily take over the entirety of the surface of a pond – no matter how large it is.
And as you can see in the video below, it doesn't take long for duckweed to grow!
By minimizing the potential for duckweed to grow, you will hopefully be able to prevent major infestations. Keep the water in motion where you can, and keep the pond clear of any external sources of nutrients as far as possible. This can even include reducing the amount of food given to fish, as overfeeding fish will introduce nutrients to the water and enable duckweed to grow.
Prevention of duckweed is certainly easier than fixing an infestation. There are several methods used to control duckweed in ponds that require varying amounts of physical effort and ability. Let's look at those now.
How to Control Duckweed
Fully eliminating the potential for duckweed to grow is virtually impossible, but there are methods for making it easier to control.
As duckweed grows quickly in still water that contains nutrients – preferably stagnant water – the simplest method to prevent this from occurring is to install a pond aeration system.
This will help eliminate duckweed or at least make it manageable. The only potential areas for growth with an aeration system will be right near the edges of the pond, where it can be easily removed manually.
Dissuade birds to visit your pond wherever possible and be careful when tending to the plants in your garden. One simple mis-spray with a fertilizer applicator and the pond will have a sudden boost in nutrients. While one spray might not prompt duckweed growth, continually spraying the pond with fertilizer will, and so care should be taken at all times.
If you have a septic tank, make regular checks on it and ensure that it is kept in good condition. A leak might start off as a minor inconvenience, but for the safety of your local environment, you should get it repaired as soon as possible. The leak will also spread nutrients that duckweed can use to grow in a pond, so if you want to keep duckweed under control, keep your septic tank in good repair.
Keeping your pond clean is another good method for reducing the kinds of nutrients duckweed needs to grow. If you have a buildup of plant matter, vegetation, and leaves on the bottom of your pond, remove them. The rotting matter releases everything that duckweed needs to grow quickly, and you should attempt to avoid that at all costs.
Duckweed needs to be controlled as soon as possible. From a single plant, a new plant can be produced every 24 hours under the right conditions. While this may not sound like a lot, consider that 2 become 4, and then 8, 16, 32, and so on. Within 14 days, you could have over 16000 plants growing if you haven't taken preventative measures. If that doesn't sound unmanageable, remember the next day you could have 32000, then 64000…within 20 days you could be theoretically be bordering on 1 million plants!
It's unlikely to work exactly this way in real life but be aware that the potential for massive reproduction and growth is there from the start. And you might not always start an infestation with just a single plant…
How to Get Rid of Duckweed in a Pond
Preventing or reducing the possibility of duckweed growing in the first place is the best method for controlling duckweed, but should it begin to grow, you'll need to get rid of it.
So, how do you get rid of duckweed in a pond?
To rid your pond of duckweed, you can physically remove it from the water, organically control it through aeration, natural bacteria products, etc., or by using a selection of treatments on it. Some of these treatments are chemical-based, where others are natural and organic and even safe for fish.
The size of the infestation may help determine which method to use. If there are only a few plants, manual removal is the easiest method as it can be done immediately and even by hand without special tools. Of course, duckweed removal tools are available to make the job easier.
A single session of manual removal is unlikely to extract all the duckweed plants, so it is wise to repeat the process regularly. If you have aerated your pond water, this process will become easier as the new growth should occur nearer to the pond sides.
Duckweed can also be controlled with organic methods including the introduction of natural predators of the plant to eat it up.
The final and most drastic measure is chemical control to remove the duckweed infestation. While this can be effective – and if the pond is absolutely covered it may also be necessary – it is best to avoid using chemicals in the first place due to the potential effect on the environment and local wildlife. Chemicals can have a harsh effect on the pond, and may also damage plants that you want to survive. If you keep fish in your pond, it is also advisable to check on what effect any chemicals may have on them.
Using one or more of the other non-chemical methods to control and remove duckweed is preferable, and chemicals should only be used as a last resort.
With that in mind, let's first look at how to get rid of duckweed in a pond naturally, then move on to chemical control.
Duckweed Removal Tools
Visible duckweed can be removed by hand – literally by dipping your hands in the pond and lifting it out. While this method isn't the best way to get rid of duckweed, it can be used in an emergency.
A far better solution is to use a tool to aid in the duckweed removal process. A pond rake or net are both good options, allowing you to either bring the floating duckweed closer to the edge to enable easier access or to lift it out of the pond altogether.
Different sizes and shapes of netting are available, but extra-fine nets are recommended as those with larger holes will allow the duckweed to slip through.
A floating boom can be used on a large pond or lake to skim the surface and draw the duckweed to the side, as can a parachute skimmer.
Once the duckweed is within reach, it can be removed from the surface of the water with a net or by hand.
Another alternative is to use a pond vacuum to remove the duckweed from the surface, and also to help remove any debris from the bottom of the pond to prevent further growth.
Organic Duckweed Control
Controlling duckweed by use of organic methods is preferable to the use of chemicals. It may be easier and more effective than constantly raking and using a net to empty your pond.
Some animals enjoy eating duckweed, and so you may find it beneficial to introduce these animals to your pond or water garden. Goldfish, Koi, and grass carp, as well as domesticated waterfowl, will eat duckweed.
They can not remove a large infestation (as their appetite will not be big enough), but should you have no duckweed or have recently cleared your pond, these animals will keep the duckweed under control.
To further control duckweed, ensure your pond water is aerated towards the bottom, and try and maintain surface disturbance too.
A fountain or water feature (like pond spitters) can be effective for this. Even with this in place, continue with manual removal where necessary. Keeping the pond clean and free of rogue nutrients is an effective combination with these animals present.
Another option to consider is the use of pond dye. This natural product will not affect any wildlife but will change the color of the pond water. This serves a double effect of making the pond look more attractive while simultaneously reducing UV light penetration below the surface. This will slow the breakdown of any organic matter at the bottom of the bend, thereby reducing the nutrients in the water and slowing the growth of duckweed.
Planting towards the south side of the pond can also help reduce the growth of duckweed by providing shade and slowing the photosynthesis process. Other surface-floating pond plants (for example, waterlilies) can also reduce the amount of duckweed.
Pond bacteria additives are available that contain bacterial cultures that will remove nutrients from the water. This will, of course, restrict the growth of duckweed, but always care should be taken if you keep fish or other aquatic animals.
For my UK readers, Ecopond Duckweed Control is a good bacteria additive product for controlling duckweed.
Chemical Duckweed Control
Depending on the severity of your infestation, you may have to resort to chemical control. Rules and regulations vary from state to state, so it may be difficult to obtain "weedkiller" products if you are an amateur pond keeper. There are usually very strict and exact processes and guidelines to follow if you wish to use such a product.
Far more common are chemical herbicides which are effective in the removal of duckweed but generally less damaging to the environment – note they are less damaging, which is not to be construed as "good for".
These aquatic herbicide products kill duckweed at the cellular level, but be careful as some can be toxic for fish, plants and other aquatic species. They are designed to destroy and kill, and so must be used with care and treated with respect.
Some aquatic herbicides may be considered safe for fish and other animals, but always read the label, and always be certain before applying any herbicide treatment to a pond containing animals of any kind. You will only get one chance to avoid a potentially devastating mistake.
Herbicides come in three main varieties - whole pond herbicide, contact herbicide, and selective herbicide.
The first, whole pond herbicides, will work for a whole season in your pond. Applying one treatment will protect the entire pond, killing any weeds including duckweed, and requiring no further treatment or maintenance.
The second variety is a contact herbicide which is applied to the weed itself. A contact herbicide does not stay in the water to kill further infestations, so you may need to perform multiple treatments throughout the year to control duckweed.
The third variety is known as a selective herbicide. This can be mixed in the water and will target particular types of aquatic plants, including duckweed. Non-selective herbicides will attack and destroy any plant matter they come into contact with.
Bear in mind that using an herbicide will not remove duckweed from your pond, they will only kill it and prevent further growth of that particular infestation. To fully remove the duckweed, it is easiest to work on your pond in sections.
Treat your first section and wait for the duckweed to die – it will turn brown as it dies. Use a rake and net to remove as much of the dead section as possible, and then move on to the next section of your pond.
Once you have treated the entire infestation and removed all the dead matter possible, you can repeat the process again to remove any still-remaining duckweed growth.
Depending on how much duckweed you had to start with, this may take several cycles to complete. Different herbicides will potentially have different cycle lengths – always read the label to make sure. Applying a second treatment too soon could have an adverse effect on your pond, including any animals or plants living in and around it.
Removing the dead matter from the surface of the water with a rake or net after treatment is vital for two reasons.
It allows you to see any living growth underneath the dead sections.
It prevents the dead mass from sinking and rotting at the bottom of the pond, which would produce more nutrients during the decomposition process enabling further duckweed growth.